Die Wiener Volkshochschulen GmbH (VHS GmbH), Austria, Project Coordinator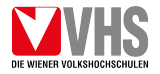 VHS GmbH is a non-profit company with limited liability. Its main purpose is to offer further education, job-oriented and low-threshold education to the Viennese population.
Currently, the Wiener Volkshochschulen employ roughly 700 employees located in 24 locations all over Vienna. They organize approximately 15.000 courses and 8.000 lectures every year, most of them job-orientated: Languages, Basic Education and Access to Higher Education, Economics and personality and IT & Multimedia.
In addition to a broad variety of courses on offer, the Wiener Volkshochschulen also realise numerous and various education projects subsidized by different Austrian as well as European public bodies.
It's product portfolio makes the Wiener Volkshochschulen an "exemplary practitioner":
They are partner in the project "Educational Guidance in Vienna".
They are a partner of ASYS, a training course provider for supervision
Supervision is a core measure in their personnel development
More: http://www.vhs.at
ANSE (Association for National Organisations for Supervision in Europe), Austria, Project Partner

As supervision and lately also coaching became increasingly professional means of process oriented consulting, national associations for supervision have been founded in several European countries since 1975. 1997 ANSE was founded as THE European umbrella association of national Organisation for Supervision and Coaching in Europe.
ANSE takes care of professional interests on a supranational level and also keeps contacts with professional organisations for supervision and coaching world-wide.
ANSE represents 22 National Organisations for Supervision. This includes more than 8.000 qualified supervisors and coaches and more than 80 training institutions in Austria, Bosnia and Herzegovina, Croatia, Germany, Hungary, Ireland, Italy, Netherlands, Norway, Slovenia, Spain, Switzerland, Estonia, Lithuania, Slovakia, Finland, Great-Britain, Greece, SIceland, Latvia, Romania and Sweden.
More: https://anse.eu
EUROCADRES, Belgium, Project Partner

EUROCADRES is the Council of European Professional and Managerial Staff and a recognised and an active social partner at European level representing almost 6 million professional and managerial staff.
Amongst the broad portfolio of tasks, EUROCADRES aims for facilitating mobility and recognition of diplomas and qualifications throughout Europe, as an important step towards harmonizing the various systems. Professional cards, as proposed by the European Commission, may be a good instrument to reach more transparency both for professional card holders and for their partners and clients.
That's why EUROCADRES strongly supports the efforts to establish a European Portfolio for consultancy, coaching and supervision with added value for mobile supervisors and their European clients. This is also in accordance with the Cooperation Agreement between EUROCADRES and the Association of National Organisations of Supervision in Europe ANSE signed November 2011.
More: http://www.eurocadres.org
University of Gothenburg/Department of Social Work, Sweden, Project Partner

In 1982, the social work department in Gothenburg for the first time developed a course in supervision for qualified social workers, who were interested in giving supervision to other social workers in different agencies and organisations. This was the first supervision education in Sweden for professionals in social work but was soon followed by others. The supervision course at the University of Gothenburg is provided during three semesters on part-time basis. Since its start is has been very attractive for professional social workers. A majority of Swedish social workers have supervision as a regular part of their work, paid of the organisation. Studies show that 78% of all social workers in 2002 were supervised and this figure has increased since then. Group supervision is the dominant kind of supervision, and the social agencies and organisations can find educated supervisors through their association, presenting lists of persons with this education and the main areas they have competencies to work within.
More: http://www.gu.se
TOPS Munich-Berlin e.V., Germany, Project Partner

TOPS Munich-Berlin e.V. is an association of trainers, consultants and scientists who are active in various social fields, yet representing a common professional requirements. The staff of TOPS München-Berlin e.V. consists of ten members and trainers who are holding degrees as supervisors and trainers for group dynamics and of other consulting or psychotherapy schools.
All staff members are working on a freelance basis as consultants, trainers or psychotherapists thus guaranteeing the knowledge of the current societal and organizational dynamics. TOPS e.V. is acknowledged for the quality of its courses, its scientific approach and also the amount of publications concerning theory and practice of consulting, group dynamic and organizational development.
TOPS e.V. is training supervisors since 1988 and is a member of the "German Association for Supervision (DGSv)" the most important and standard setting organization for supervision in Germany. TOPS-consultants are working with various customers in all fields of economy and administration, so they cover the customers perspectives as well as the VET-providers perspectives.
According to the VET training program TOPS provides – as one of the first providers – a modular training system which is highly compatible with ECVET-objectives:
More: http://www.tops-ev.de
University of Zagreb, Croatia, Project Partner

University of Zagreb (since 1669) is the oldest and biggest university in South-Eastern Europe. With its comprehensive programmes and over 50,000 full-time undergraduate and postgraduate students, the University is the strongest teaching institution in Croatia. It offers a wide range of academic degree courses leading to Bachelor's, Master's and Doctoral degrees.
The University of Zagreb, Department of Social Work, is the only institution in Croatia which provides official training program in supervision. The programme was recognised by the Croatian Ministry of Sciences and High Education in 2006. It is the graduate specialist study programme that lasts at least for two years with the minimum of 120 ECTS credits. The programme is open for graduates of psychology, social pedagogy or other related social, educational and humanistic sciences with at least 300 ECTS in previous professional education.
More: http://www.unizg.hr
Coachkwadraat, Netherlands, Project Partner
Coachkwadraat is a network company for coaching, supervision and organizational development in the north of Holland. It was established in 2006.
The team consists of the owner and about 8 freelance coaches, supervisors, trainers and organizational consultants who are hired for specific projects. The coaches and supervisors are registered with either LVSC or NOBCO (Dutch professional associations).
We provide individual coaching, supervision, guidance of intervision groups, teamcoaching, training en projects in organizational development.
Coachkwadraat focuses on two target groups:
Managers, professionals, coaches;
HRM management, members of the Executive Board and senior management.
The sectors Coachkwadraat works in are cure & care, education, trade & industry and governmental organizations.
More: http://www.coachkwadraat.nl
Who does the job?
Steering Committee
The members have decided on the other consortium members and the experts. They will guide and control the adherence of the work progress to the committed project aims.
Members:
Barbara Gogala (ANSE)
Slavica Uzelac and Gerald Musger (EUROCADRES) – More: Profil
Eva Nemes (ANSE) – More: Linkedln Profil
Andreas Paula (VHS GmbH) – More: Profil
Project Team
The members develop the products; additionally they are responsible for the dissemination of the products.
Members:
Experts Committee
This is a group of personally subcontracted external experts. They check and comment on the main products and give feedback.
The experts are:
Guido Baumgartner, Supervisor, Coach, Organization Developer – More: Webpage
Hans Björkman, Group Manager WSP ( global consultancy company), SE
Elisabeth Brugger, committee member of WeiterBildungsAkademie,Program Director of VHS GmbH, Supervisor; AT
Susanne Ehmer, Supervisor, Coach, Organization Developer, Professor at Univ.Freiburg, DE, Co-owner of redmont, AT – More: Webpage
Erik de Haan, MSc, PhD, Director of Ashridge's Centre for Coaching; Professor of Organisation Development and Coaching at VU University, Amsterdam, UK and NL – More: Profil at Ashridge, Webpage
Tone Haugs, Assistant Professor at Univ. Stavanger, NO
Louis van Kessel, Professional Coach, Supervisor/, Lecturer, Human Resources, NL
Helga Messel, 1982-2000 in SIF (trade union) as Head of training-department and Project Manager. Career-Consultant, SE – More: Webpage
Heidi Möller, PhD, Professor of theory and methodology of consulting, Univ. of Kassel, DE – More: Profil at the Universität Kassel
Heidemarie Müller-Riedlhuber, Project Coordinator of DISCO, 3s Unternehmensberatung, AT – More: Webpage
Imprint
Responsible for this webpage: Michaela Judy, Project Coordinator, Die Wiener Volkshochschulen GmbH
Copyright: 1997-2012 by ANSE All rights reserved