"Recognizing Competences" – Second ECVision Conference
"Recognizing Competences. ECVision: Comparability and Validation of Supervisory and Coaching Competences" has taken place at Urania/Vienna from the 24th-25th of September 2015.
81 professionals from 14 European countries discussed thoroughly. the ECVision outcomes, especially the competence framework.
The conference included the key lecture "Research on Supervision and Coaching Skills Past -Present -Future" by Heidi Möller, Professor at University of Kassel, "The Map isn't the Landscape", an introduction to the Competence Framework by Wolfgang Knopf and Michaela Judy, four workshops, an expert's panel and lots of time for discussion in small groups as well as in the plenary.
See here some impressions from the conference
"Getting involved" – First Conference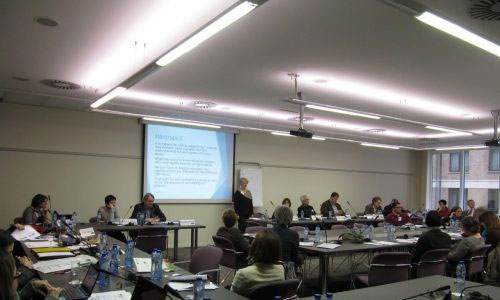 Gleanings of the first ECVision Product, the Glossary for Supervision and Coaching in Europe, was presented at the first Project Conference "Getting involved" in the European Trade Union House, Brussels from Thursday, February 13th to Friday, February 14th. 2014
Lecture ECVision Barbara Gogala
Lecture Erik de Haan
Lecture Glossary Michaela Judy
Lecture Competence Matrix Michaela Judy
Flipchart-Feedback Participants
Impressions
Cooperation
November 2014: ÖSV commits to depict their standards for training providers in learinig oputcomes according to the ECVision competence framework.
November 2014: ECVision becomes an associate partner of EmployID, a research project aiming at supporting public employment services and their employees in adapting to the changes to their world of work by facilitating the development of their professional identities. Cooperation on competence frameworks is agreed upon.
During 2014: LSVB, ÖVS & DGSv (Dutch, Austrian and German Associations for Supervision and Coaching) take over the ECVision Glossary on their websites.
Professional Community
2013-11-29: Brussels: ECVision Presentation at the EUROCADRES Anniversary
2013-11-23: Bonn: ECVision Presentation at the DGSv General Assembly
2013-11-07: Bern: ECVision Presentation at the BSO Conference
2013-10-25: Riga: Project Presentation at the Conference of the National Association of Supervision
2013-10-07, Department of Social Work in Gothenburg, presentation of ECVision to social workers in the field.
2013-07-03, Utrecht, Netherlands: Information meeting about ECVision project with coordinators training-programmes on supervision.
2013-05-25: Salzburg: ECVision Presentation at the ÖVS General Assembly
2013-03-09: Berlin: ECVision Presentation at the TOPS Conference
2013-02-12, Vienna, Austria: Project Presentation at ASYS (Arbeitskreis für systemische Sozialarbeit, Beratung und Supervision), www.asys.ac.at
24.11.2012: Vienna, ÖAGG: Der NQR und ECVision
Conferences
2015-03-26./27.: The ECVision Competence Matrix was partly presented within a workshop at the conference "Coaching heute: Zwischen Vertraulichkeit und Firmeninteressen", Hochschule für angewandtes Management GmbH, Erding, DE. More
2014, June 11-13: ECVision was presented by Marina Ajdukovic at the Tenth International Interdisciplinary Conference on Clinical Supervision, 2014, Adelphi University, New York. More
2014-05-22: Workshop on the ICF coaching conference on coaching supervision in Budapest; Introducing the glossary by Krisztina Madai. http://www.zskf.hu/icfhszoszkonferencia
2014-06-17./18.: the project team members Michaela Judy and Wolfgang Knopf presented the ECVision Glossary within a "Themen-Lab" at the "3. Internationalen Coaching-Fachkongess: Coaching in der Gesellschaft von morgen", Fachhochschule Nordwestschweiz, Hochschule für Soziale Arbeit, Olten, CH. More www.coaching-meets-research.ch
2013-11-07: Bern: ECVision Presentation at the BSO Conference
2013-10-25: Riga: Project Presentation at the Conference of the National Association of Supervision
2013-08-19.-23., Kaunas, Lithuania: Project Presentation at ANSE Summer University 2013, www.anse.eu; More
Articles, press, reviews
March 2014: Announcing the project and its importance in shaping the landscape of coaching and supervision in the Hungarian online coaching journal 'Magyar CoachSzemle' and in the Hungarian Association for Supervisors and Coaches inviting the coaching and supervision comminity to participate in creating the glossary
http://coachszemle.hu/kutatasok/230-felhivas-eu-altal-tamogatott-coaching-kutatasban-valo-reszvetelre
Article on history of coaching in Hungary in the Hungarian online coaching journal 'Magyar CoachSzemle'. It was the first article written ont he given topic in Hungary, initiated by the Leonardo ECVision project. Therefore, I inviteted professionals to share their professional journeys int he field of coaching and supervision. Several articles of coaches and supervisors appeared in the following issues of the journal, contributing to the professional development of the HUngarian coaching field.
http://coachszemle.hu/hatter-87/427-a-coaching-tortenete-magyarorszagon
March 2014: Article in the ÖVS-News about the ECVision Glossary