Die Wiener Volkshochschulen GmbH (VHS GmbH), Austria, Project Coordinator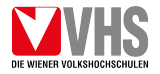 VHS GmbH is a non-profit company with limited liability. Its main purpose is to offer further education, job-oriented and low-threshold education to the Viennese population.
Currently, the Wiener Volkshochschulen employ roughly 700 employees located in 24 locations all over Vienna. They organize approximately 15.000 courses and 8.000 lectures every year, most of them job-orientated: Languages, Basic Education and Access to Higher Education, Economics and personality and IT & Multimedia.
In addition to a broad variety of courses on offer, the Wiener Volkshochschulen also realise numerous and various education projects subsidized by different Austrian as well as European public bodies.
It's product portfolio makes the Wiener Volkshochschulen an "exemplary practitioner":
They are partner in the project "Educational Guidance in Vienna".
They are a partner of ASYS, a training course provider for supervision
Supervision is a core measure in their personnel development
More: http://www.vhs.at